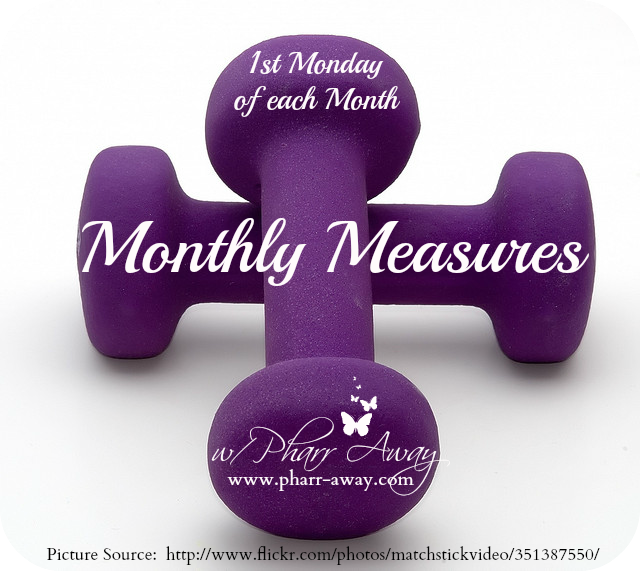 Can I be honest...
I did
NOT
work out for the entire month of March...no joke (had to throw that in there somewhere :)! Today is the first month of April and the first month of something always tends to represent a new start. So once again, I'll be making an effort to work out in some form or fashion.
It's hard. I don't want to do it. I don't feel like I have the time. I don't have the energy. I feel like my time could be spent doing something more productive!!!!!
But I know better than that. I know it will be worth it. I know that even 15 to 30 minutes per day would be better than what I'm doing now...nothing. I know that my energy levels would improve dramatically. I know that time spent working out would be more than productive because it has the potential to change my life.
It sucks because I started Monthly Measures in order to build a community of motivation and accountability yet I find myself doing nothing, starting over, and in need of the motivation month after month.
This isn't about me feeling sorry for myself, nor do I need some one to chime in to make me feel better. This is about me facing reality so that I can get my butt into gear!
I almost decided not to do a Monthly Measures this month! But then I realized that no matter how the previous month may have gone
I'm the one who needs to hold me accountable!
Forcing myself to be honest in this way, month after month, may just be what I need to make a change. It also won't hurt to see how far I've come once I start to do better and make progress.
Everybody struggles with something. I struggle with some things (i.e. multiple). This is one of them.
But I'll NEVER stop trying!!!
Monthly Weigh-In: 153.0 lbs (breastfeeding must be maintaining this)!
Click on the Monthly Measures label at the very bottom of the blog to read older posts and see where I began!
No real rules...
Link-up any recent post related to health / fitness (including healthy recipes).
Use the hashtag #MonthlyMeasures if tweeting.
Visit | Engage | Encourage | Energize
What? know ye not that your body is the temple of the Holy Ghost which is in you, which ye have of God, and ye are not your own? For ye are bought with a price: therefore glorify God in your body, and in your spirit, which are God's. I Corinthians 6:19-20, KJV
Add your link below...



Check out this month's featured sponsor and Monthly Measure co-host, Myranda: