Remember this line from last month's monthly measures...."I joined a gym (Life Time Fitness) last month!"
Well, that membership has come to an end. I wasn't going consistently enough for it to be worth it. We are in the process of trying to become debt free and we have a goal in mind to reach that point so a gym membership doesn't really fit into the equation. But I truly can't use that excuse. I have been very slack in regards to working out for the entire month of February. I must admit, I let myself get a bit overwhelmed in anticipation for Maddie's birthday and I actually let a lot of things fall by the wayside...
and that's ok
! Let's just call it prioritizing!!!
But I do need to get back on track. Not just with exercising, but with several other things as well...
Taking care of myself
Getting out more with Maddie
Having more alone time with the hubby
Eating better
Blogging consistently / Responding to comments and emails
Basically everything on my list of
aspirations
for this year! So yeah, I made it through January like a champ and fizzled out by the end of February. Typical, right?!? Well, I plan to do my best to get back on track by the end of this month. Any words of encouragement would be greatly appreciated!!!
By the way, I'm currently reading
It Starts with Food
by Dallas and Melissa Hartwig and may (keyword: may) try out their
Whole30
challenge once I"m done...but we'll see!
Special thanks to the hubby for not rubbing my slack in my face or saying I told you so in regards to the gym membership! So thankful that he feels that I should just keep trying different things until I find something that works. To him, all that matters is that I keep trying...that kind of support means a lot!
Monthly Weigh-In: 153.0 lbs (same as last month, surprisingly)!
Click on the Monthly Measures label at the very bottom of the blog to read older posts and see where I began!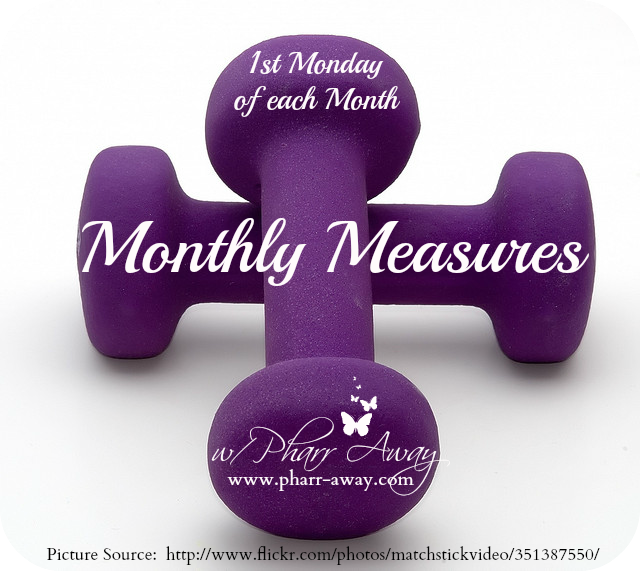 Link-up any recent post related to health / fitness (including healthy recipes).
Follow your host (Nicole @ Pharr Away)
Display the button | Use the hashtag #MonthlyMeasures when tweeting
Visit | Engage | Encourage | Energize
What? know ye not that your body is the temple of the Holy Ghost which is in you, which ye have of God, and ye are not your own? For ye are bought with a price: therefore glorify God in your body, and in your spirit, which are God's. I Corinthians 6:19-20, KJV
Add your link below...