Welcome to Monthly Measures!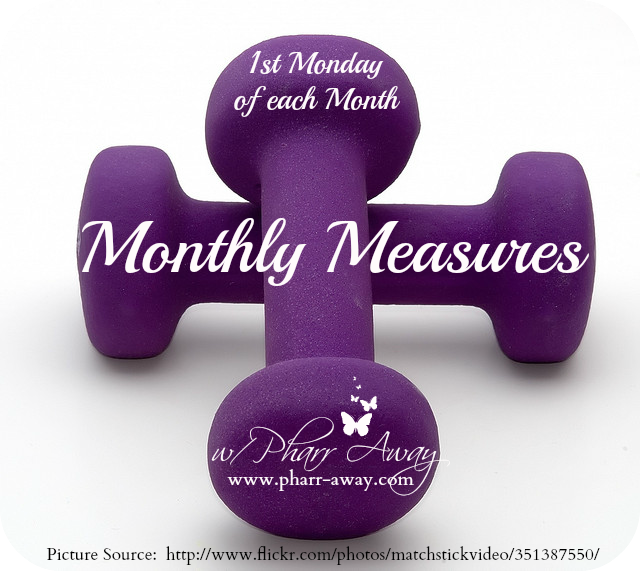 Last month something sparked in me that caused me to want to get in shape. I'm not one to work out, or do anything that's physically laborious, to be honest. I'm just not a fan of exercise, although I understand it's importance!
I've recently had a cute little baby and married an amazing man and somehow I found myself thinking about where I am, physically. I
looked
great (thanks to breastfeeding) but I didn't
feel
great, basically no energy at all! So I decided to do something about it by challenging myself to train for a
5K program
.
I even decided to be a little cliche and make one of my
aspirations
for the new year to include exercising consistently and eating healthy.
Let's be clear, this isn't about losing weight in my case, although I do like to keep track of it. I've hovered around 150 lbs, give or take a few, since high school and I'm actually fine with my weight. In my opinion, it's just the right amount for my shape and height. For me, this is about getting in shape so that I'm not out of breathe after one flight of stairs or after chasing after my little one. I'd also like to add a little definition here and there...I'm sure the hubby will love it too! I know that I will lose weight along this journey; however, that's just an added bonus that I'll gladly accept.
So whatever your goal or focus may be in relation to your health I'd love to hear about them. Let's build a community of motivation and accountability surrounding health and fitness where we're sharing, learning and encouraging each other to live healthy lifestyles. Not just for ourselves, but for our families as well.
Today I weigh in at 153.0lbs, no thanks to the holidays! Check out last months
Monthly Measures post
to see where I began!
Link-up any recent post related to health and fitness (including healthy recipes)
Join this site (GFC) | Display the button
Visit | Engage | Encourage | Energize
BE FIT & BE HEALTHY!!!
What? know ye not that your body is the temple of the Holy Ghost which is in you, which ye have of God, and ye are not your own? For ye are bought with a price: therefore glorify God in your body, and in your spirit, which are God's.
I Corinthians 6:19-20, KJV
Add your link below...