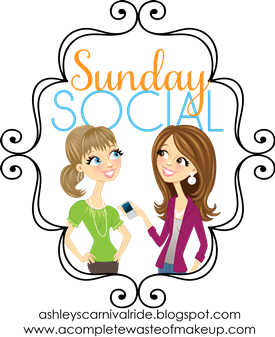 A little Sunday socializing about this little old blog of mine...
What is the name of your blog? How long have you been blogging?
I titled my blog
Pharr Away
as a play on words with my new last name (Pharr). By marrying, I feel that I'm being taken "Pharr" away from what I've known as a single woman to become a wife, mother, and homemaker, and I'm loving, growing, changing and LIVING like never before in the process!
I started this blog in April, but since my newborn still had that new baby smell, I didn't start posting and engaging consistently until November!
Why do you blog?
I started out blogging for myself and immediate family in an attempt to keep tabs on our journey and also to share with our extended family, but it's become SO much more and I hope to encourage, inspire and uplift people in the process as I continue to blog, learn and grow.
What is the first blog you ever followed?
Thrifty Decor Chick
, her projects for the home are the absolute BEST!!!
What is your favorite post you wrote in 2012?
It's so hard to choose just one, but I'll have to say
Still Trying to Impress
. It's a post about always striving to impress your mate no matter how long you've been together. It's such a very important message concerning marriage and I hope people always leave that post feeling inspired to do something impressive for their love ones!!!
What are your blogging goals for 2013?
Post good content and do so consistently.
Stay true to myself and always keep in mind why I blog.
Host my first giveaway, successfully (
a Kindle Fire: Jan 30th - Feb 6th
)
Engage, Encourage, Inspire and Uplift others (and myself) through this platform.
Grow so that my giving may grow
(Generous Givers)
.
Top 3 favorite blogs to follow?
Oh, this is hard...
Thrifty Decor Chick
|
Finding Joy
|
Lovely You